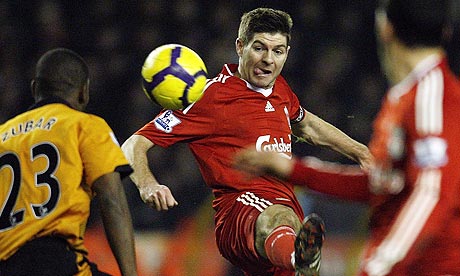 Tuesday 26 January 2010 22.11 GMT The Reds had the chance to return to the top four for the first time since September providing results went their way ahead of their clash against relegation-battling Wanderers on Tuesday night.
Liverpool didn't add to their total of seven league defeats this season. But it felt like another loss. This was as dispiriting and disjointed for their supporters as any of those reverses. Instead it's a team in reverse.
Liverpool crept into the top five positions, with the series The Red is now in the fifth ladder with 38 points
"It was positive for us that he was available, you can see that he has to improve his match fitness but it's a question of time," the Spaniard said.
Not the same intensity as shown against Tottenham last week. Threatened with a couple of solo efforts, but was left frustrated by Liverpool's lack of quality," Kuyt said
Final results Liverpool stumbled again in its attempt to move back into the top four in England's Premier League, playing a 0-0 tie at Wolverhampton
Team Line-up:
Wolves:
Hahnemann; Berra, Craddock, Ward, Zubar, Mancienne, Henry, Milijas (Jones 73 '), Foley, Jarvis (Guedioura 89'), Doyle
Liverpool:
Reina; Kyrgiakos, Skretel, Insua, Carragher, Mascherano, Lucas, Gerrard, Riera (Ngog 66 '), Maxi, Kuyt