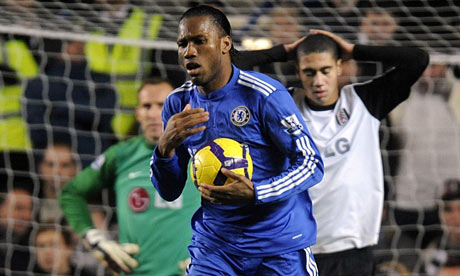 There was no sophistication to a Chelsea victory in which the uncontainable individualism of Didier Drogba brought an equaliser and the winner arrived through an own-goal from Chris Smalling. This type of win will not have been what Roman Abramovich had in mind when he hired Carlo Ancelotti as manager but it was still a heartening recovery.
With Fulham still reeling from losing their lead, the hosts fired another ball into the box and when Daniel Sturridge's shot was parried by Schwarzer it hit the unfortunate Chris Smalling and rolled agonisingly into the back of the net. Fulham pressed again after falling behind and some uncharacteristically nervous defending from Chelsea made it a nail-biting finish for the Blues fans.
The victory means Chelsea will lead the Premier League at the end of 2009 but they still look well short of their best form, while Fulham suffer their first defeat in nine games.