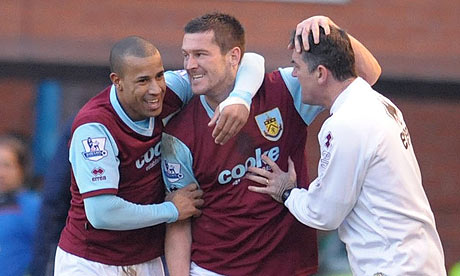 Burnley's David Nugent celebrates his equaliser against Bolton with Tyrone Mears and manager Owen Coyle. Photograph: Paul Currie/Action Images
Bolton took another chink out of Burnley's Turf Moor armour by snatching a point in the first meeting between the two sides in the top flight since 1964. But more significantly for the frustrated Bolton manager, Gary Megson, another defensive lapse prompted the draw that left his club stuck in the relegation zone.
Matthew Taylor had curled a free-kick inside the near post to put Bolton ahead in the 29th minute with a goal described as "exquisite" by Megson's opposite number, Owen Coyle. But the lead only lasted until the 56th minute when David Nugent headed in an equaliser that infuriated Megson.
"Bolton are an established Premier League club, they know how to grind out results," Coyle said. "But I think they'll know today they've been in a real game and I think in an honest assessment, they'll feel fortunate to leave with a point."